HPR 527 LS Build Thread Part 1
HPR 527 CID LS Build
During this write up you may see pictures of two different engines and there are two going together at the same time.  One is a more 1/8 and 1/4 mile setup while the other will be a street / strip / drag week kind of build.  Both are going to be a bit on the aggressive side, make no mistake about it but the end goal will be to have the drag engine well past the 1000hp mark (flywheel).  There are going to be a few items that will NOT be given in exact details.  Final stroke, rod length, or piston design will not be given during our discussions but you will see pictures of them of course.   So here we go......
Part 1:  
The block


When building an engine of this size, your choices on engine blocks are far and few between.   Since we are dealing with a crankshaft well over 4.500" of stroke, it will have to be a tall deck to handle this kind of stroke.  In the tall deck range of items you have the LSx, RHS, Concept 1, and Dart blocks to choose from.   We wanted to have a few more options for cam size selection and it needs to be raised to be able to clear the connecting rods.  Being a raised cam eliminates the LSx, and at the time the Concept 1 block but they are suppose to have a release on a raised cam block.  For these two builds we decided on the RHS being we have done some big stroke setups in these blocks before and have not had any issues with them.
RHS block out of the box
As the blocks come, they feature a 0.388" raised cam location, 55mm cam bearing journals, std LS main journals, 9.750" deck height, billet main caps, cam retainer plate, rear cover, and plug kit.  They will accept OE wet sump, OE dry sump, or aftermarket dry sump oil systems as well as OE style timing chains.   They do require the use of a link bar style lifter. 
Once the blocks are out and inspected for damage during shipping they head directly to the boring bar to rough size in the cylinders.  The blocks ship with a rough size of 4.120" and we are having to bore a bit larger than that. 
Boring each cylinder to rough size
Once we have the cylinders roughed into size the blocks are placed on the surfacer to check deck height and milled perfectly flat.  Once finished there, they go into the hone with a torque plate and cylinders are brought to their final size and surface finish.  Now that we have a workable cylinder that will accept the piston they are mocked up prior to the mill. 
Blocks are clearanced for stroke in a number of places.


First the crank is laid in place and spun to make sure there are no issues with the crankshaft itself.
Once the crank is free and clear, we install one rod and piston into the block and check for proper clearance, machine as needed.
Now these are done in a little different order than your normal 416/427/454/468 build in that typically we take the blocks directly to the mill first to clearance the block and cylinders for the increased stroke.  When dealing with this many custom parts and displacements of this size we have to mock it up and cut as we go to insure we are leaving as much material as possible for strength and support.  To add to that, each of these two blocks have shown some variation to them inside the crankcase and we increased stroke slightly from the last build, so EVERY 527 will have to be checked, clearanced, and checked again as needed to make sure everything fits nicely before clean up and assembly. 
Now that we are sure the rotating assembly will have no problems turning over, we bolt all of the main caps back into place, torque to spec and check the main housing bore size.  If needed the blocks are line honed to size before moving to the final steps before wash.
A couple steps added to the race setup. (#bigboned)  We are going up to a 60mm camshaft journal from 55mm (stock OE), machining the front cover for a Jesel belt drive, and installing 0.937" diameter key way Jesel lifters due to the larger camshaft this engine will be using over the other.  These steps are vital on a higher RPM, big lift engine to help remove stress from the valvetrain, allow a larger base circle cam and help to remove some harmonics from the valvetrain.  More on that later. 
60mm babbet cam bearings installed (still have room to go larger if needed).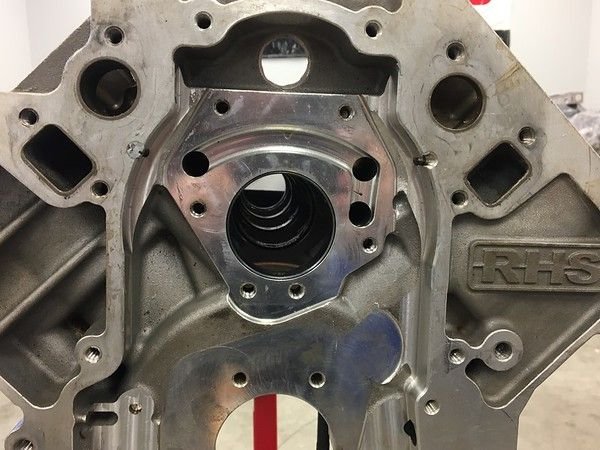 Front cover machined for Jesel belt drive
Jesel 0.937" keyway lifter bushings.


Once both blocks were finished maching they are washed by hand / pressure washed to insure no debris are left behind in any part of the block, blown dry and moved into the assembly room for prep. 
Final block wash by hand / brush / pressure washer outside and in.



Next step is laying out the rotating assembly and bearing clearances.
---