HPR and GSpeed team up on a 468 cid LS Road Race build - Part III
Small update for today:
If you are curious as to the retainer weight difference here is the original PAC Ti retainer for the dual spring compared to the Tool Steel one for the conical Comp springs.
Pac Ti. retainer at 11 grams ea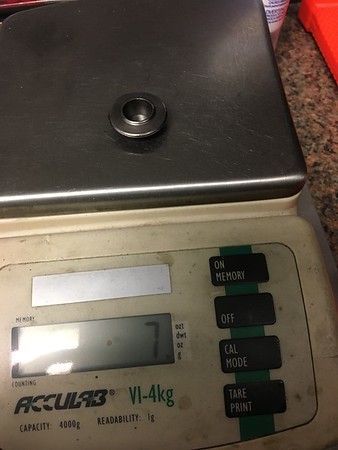 Comp Tool Steel retainer for conical springs
For desired compression and quench we are using a 0.051 Cometic gasket set. Heads are held down with a shelf ARP head bolt kit.
With the gaskets on, heads were checked for correct install height, shimmed as required and prepared to go on the engine.
As sent dual springs with Pac retainers being removed and the heads cleaned.
Shimming for new Comp conical spring kit
Comp's 7230 conical spring set with tool steel retainers ready to go.
Heads assembled and torqued
Now that the heads are on, we measured for proper pushrod length and lifter pre-load. Unlike the home user, we have the advantage of keeping a number of pushrods of different sizes and lengths in stock so we can check using a real pushrod, not a checking pushrod. This gives us the ability to look for clearance issues, or any differences from the checker to a real constructed pushrod. *pushrods in route*
Measuring for pushrod length
Now for some of the new cool features.
As you have seen in the first post, Louis and the guys at GSpeed are working on a new dry sump and accessory drive system to allow use of a bigger pump than the standard 3 stage as well as dropping weight with the new accessories and picking up some HP to boot.
First part of this is the Dailey 5 stage pump with Aerator return.
Assembled pan and pump
Detail work inside the Dailey pan and built in pickup screens
Pump return, and aerator return side by side.
Mounted on the engine
Again, I will forward some of the new drive features to Louis and the guys at GSpeed. I'll answer what I can on this.
---